June 26
The Hidden Door will remain closed until new procedures and policies from State and Local officials advise it is safe to welcome our friends back. While we have greatly missed seeing those who have supported the bar over the years, the safety of our customers and employees is paramount during the Covid-19 pandemic.

We have used the "down-time" to completely remodel the bar, ceiling to floor. We have updated our equipment and fixtures in order to better serve our guests. It was critical that none of these efforts affect the traditions and spirit of The Hidden Door.

As soon as it is safe to do so, The Hidden Door will be open with lots of free parking and the same friendly staff serving up the great drinks you have all come to expect from us. In the meantime, it is our sincere wish everyone will stay safe and do all that's possible to mitigate the spread of the virus during this challenging time.

Harvey Meissner
President and General Manager of The Hidden Door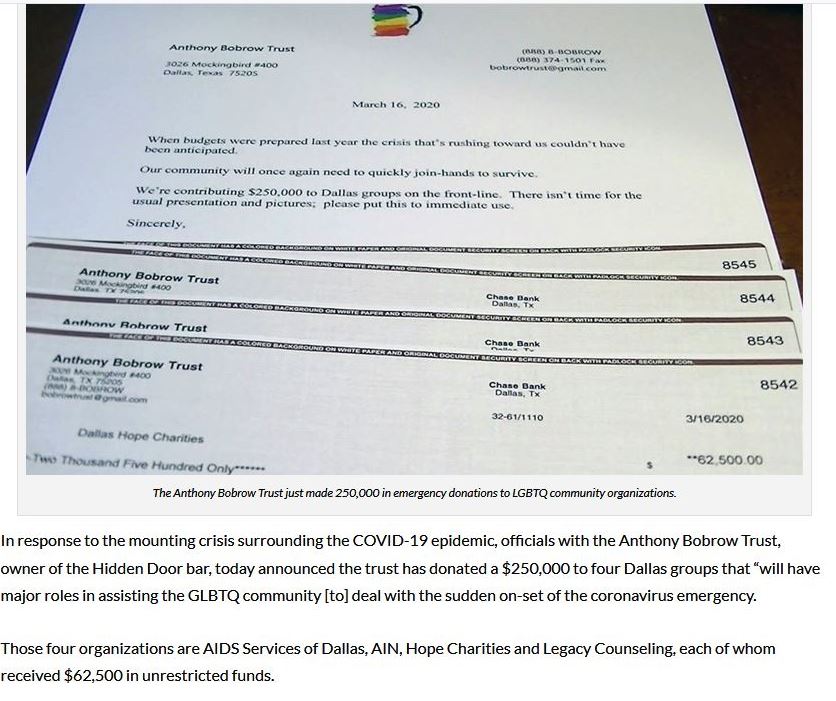 Thanks to the Dallas Voice
https://dallasvoice.com/anthony-bobrow-trust-announces-emergency-donations/
The Anthony Bobrow Trust, owner of the Hidden Door, donated a
Quarter-Million Dollars ($250,000) Monday, March 16, to four Dallas
groups that will have major roles in assisting the GLBTQ Community
deal with the sudden on-set of the Coronavirus emergency. AIDS
Services of Dallas, AIN, Hope Charities and Legacy Counseling each
received $62,500 in unrestricted funds.
Harvey Meissner, President of the Hidden Door, said there wasn't time
to arrange the usual presentation and pictures. "The need is
immediate, as in this hour! We're all stunned by how fast this is
moving and the realization that our lives are being seriously
disrupted and may never be the same. We put the $250,000 in the mail
before we took time to let them know it was coming."
We'll update the news, check back. Meanwhile, its a great time to
show your support by wearing Hidden Door garments.
Be safe, please!