Although Texas is allowing bars to open at 25% capacity, Harvey Meissner, President and CEO of The Hidden Door, says the idea of opening this week is a complete nonstarter. "I think it is highly irresponsible for bars to open now, with the number of new cases still high each day." Noting that The Hidden Door — which is currently being completely remodeled with work set to be finished by the first week in June — is slated for a July 1 reopening date. "If all goes well, we may consider a slightly earlier date."
"Going out and drinking isn't worth someone's life," Meissner said, adding that when the bar does reopen, customers will be required to wear masks and comply with ever-changing Rules.
Check in periodically, we'll keep you updated!
Stay safe!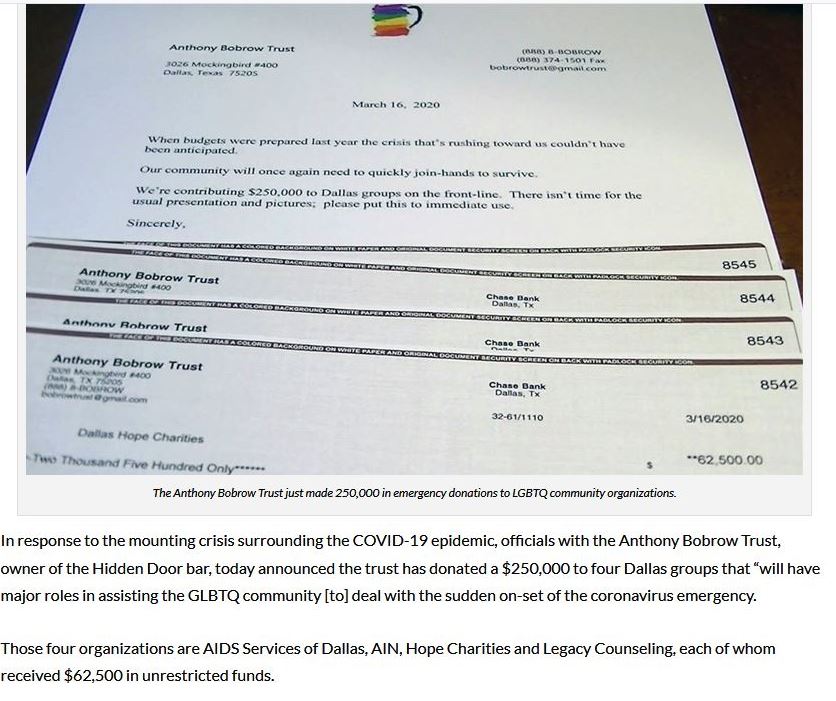 Thanks to the Dallas Voice
https://dallasvoice.com/anthony-bobrow-trust-announces-emergency-donations/
The Anthony Bobrow Trust, owner of the Hidden Door, donated a
Quarter-Million Dollars ($250,000) Monday, March 16, to four Dallas
groups that will have major roles in assisting the GLBTQ Community
deal with the sudden on-set of the Coronavirus emergency. AIDS
Services of Dallas, AIN, Hope Charities and Legacy Counseling each
received $62,500 in unrestricted funds.
Harvey Meissner, President of the Hidden Door, said there wasn't time
to arrange the usual presentation and pictures. "The need is
immediate, as in this hour! We're all stunned by how fast this is
moving and the realization that our lives are being seriously
disrupted and may never be the same. We put the $250,000 in the mail
before we took time to let them know it was coming."
We'll update the news, check back. Meanwhile, its a great time to
show your support by wearing Hidden Door garments.
Be safe, please!