The Hidden Door has reopened,
with traditional business hours.
7a-2a M-Sat, 12n-2a Sun.
the Dallas News has asked customers of bars serving our community to help them plan future coverage, and prepare a story for mid-August about what LGBTQ bars have meant to you. Please take a minute and participate, ask your friends from HD to do the same. Hopefully you'll also have kind words about the Hidden Door.
Take our survey.
---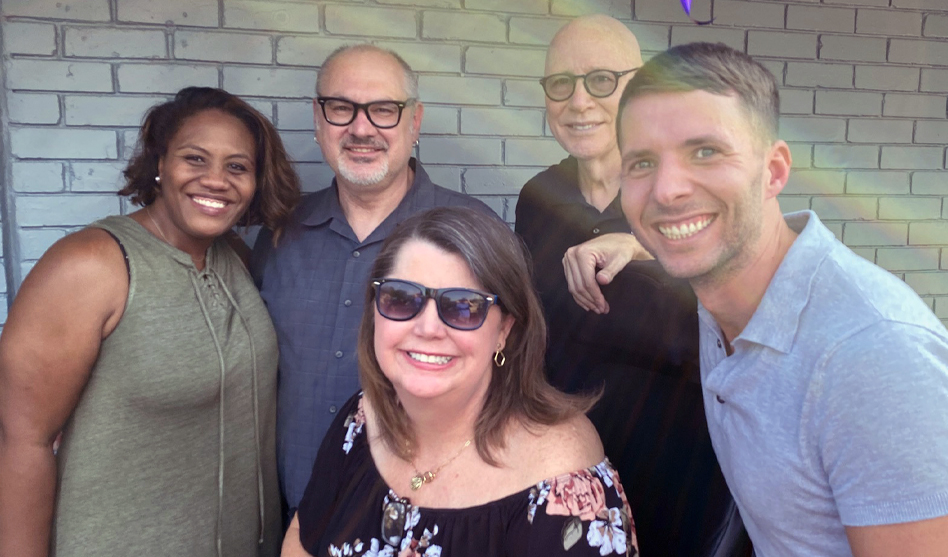 Melissa and the crew from Legacy Counseling joined Harvey and the Hidden Door bunch to celebrate the bar's re-opening.
The Hidden Door opened its doors again today — Wednesday, June 16 — on Tony Bobrow's birthday after having been closed for more than 15 months due to the COVID-19 pandemic. Hidden Door President Harvey Meissner and his crew took advantage of the down time to do some remodeling, and debuted a newly-renovated patio to an approving crowd. Dallas Voice's Chad Mantooth was there to capture the re-opening party in photos.
Thanks, as always, to the Dallas Voice!
The Anthony Bobrow Trust has, in its second round of donations this year, donated a total of $250,000 to four separate community organizations, according to co-trustee Harvey Meissner.
Harvey Meissner and Evie Scrivner from Dallas Hope Charities
The trust has already made smaller donations this year totalling about $10,000.
Beneficiary organizations in this round of donations are Legacy Counseling Center, AIDS Services of Dallas, Dallas Hope Charities and AIN.
Each agency received a check for $62,500.
The Anthony Bobrow Trust owns and is funded in part by proceeds from The Hidden Door, of which Meissner is president and general manager. Jim "Polock" Roberts opened the bar in 1979 and owned it until his death in 1988. Anthony "Tony" Bobrow, a longtime employee, took over as owner of the bar then and as manager of the Jim Roberts Trust. When Bobrow died in February 2018, the bar and the rest of his estate went to the Bobrow Trust, with Meissner as president and general manager of The Hidden Door and as co-trustee of the Bobrow Trust.
Following Bobrow's wishes, Meissner and his co-trustee then closed out the Jim Roberts Trust by donating its assets and developed a plan to make ongoing donations to LGBTQ and HIV/AIDS community organizations from the assets of the Bobrow Trust.
Harvey Meissner, left, and Christopher Turman from AIDS Services Of Dallas
Although the Hidden Door has been shuttered since the beginning of the COVID-19 pandemic in March 2020, Meissner said this week that the bar and the trust are "legally separate entities," and that the trust is "well-funded and able to continue its donations without Hidden Door revenues."
That does not mean, however, that Meissner and Hidden Door staff are not working toward re-opening the bar. They just intend to do so in the safest possible manner.
"Dallas is still recording 200-plus new [COVID-19] cases and 20 or so deaths each day," Meissner said in a statement. "Hidden Door doesn't think it's safe to re-open, even with precautions, until those numbers go down and more of our community is vaccinated."He said the bar does have a target date for re-opening in mind, but that date is dependent on "the rate of new infections and deaths continuing to drop." And even after the bar re-opens, "The policy of being open every legal hour will probably be curbed for the time-being."
Meissner said he hopes to announce specifics soon.
Apr 05, 2021
The Hidden Door store is open for friends to get their gear and be ready for our reopening.