For 40-years, the longest-serving meeting place for the Dallas GLBTQ community!
We're different, almost all our net profits annually are returned to our community through the Anthony Bobrow Trust.
We're open every legal hour, 7a-2a M-Sat, 12N-2a Sundays.
Plenty of free parking, great daily drinks specials.
The Sunday afternoon Beer-Bust is legendary, check Meet The Men to see the fun.
Come, meet new friends today at the Hidden Door. They 're waiting to
meet you!
Hidden Door – MAP
SUNDAY 12:00 PM to 2:00 AM
MONDAY through SATURDAY 7:00 AM to 2:00 AM
Community Links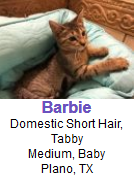 www.catmatchers.org
Turning disposable animals into lifelong companions